[SIGN UP] Shinhwa - How Do I Say I Love You
o_o Well, seeing how nothing's been updated for around two months, I guess it's safe to say... the comm died? "XD In an attempt to revive it, I give you... two sign-ups! To
fulfill my current Shinhwa bias
give a miniscule amount of variety to the sign-ups, the first one is Shinhwa, and the second is Battle. I hope people will join~ XP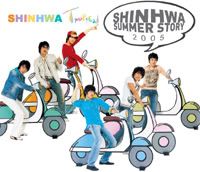 How do I say I love you, baby?

eosaekhan deut chimmugeon heuleujiman
mameun dalla gaseumeun deo dwigo
tteojildeut han nae mameun neol wonhaneunde yeah
hajiman nae ibsuleun bukkeureowo

mal hanmadi geonneboji mothan chae
neoui nunman bbanhi baraboda
ddeollineun nae mam neo-ege deulkkilkkabwa
gominhamyeon gogae sugin chae nan

How do I say I like you, baby?


eotteoke ireon nae mam jeonhalkkayo?


How do I say I love you, baby?


Just I want to love you, baby.



Right there. How's our girls lookin?
Pretty cool, huh? I think she's fine.
neomu seolleyeo tteolineun naeduson
gadeukhi maechineun ttambangul
machubogi jocha himdeun nauisarang
geudae neomunado sarangseureon moseub

geureonchaero shiganeun deo heulleogago
gaseumsogeun deo ttadeureo gago
eotteon aegideun neo-ege haeyaman hae
idaero neo ireoseoljido molla

mal hanmadi geonneboji mothan chae
neoui nunman bbanha baraboda
ddeollineun nae mam neo-ege deulkkilkkabwa
gominhamyeon gogae sugin chae nan

How do I say I like you, baby?


eotteoke ireon nae mam jeonhalkkayo?


How do I say I love you, baby?


Just I want to love you, baby.



(

Stand up!

)
(

Hey-hey!

)
(

Come on!

)

idaero shigani meomchweosseumyeon
maega jomdeo meotjinmareul tteo-oril su itge
neoreul hyanghan naesogui sarang
I need you (

uh!

)

I want your love



jamggan naemareul deureojweo
jogeumman isseum saenggak nal deutdo
api kkamkkam igeo na weoncham (

Slow down

)
museunmareul halkka? gaseumeda mudeodun mal
I'm in love with you
mogane maemdoneun mareun amado it's you
jeonhal su eopseume geumal ibane meomulda
ddo gaseumane samttyeon

Baby! sashileun neomu haengbokhae
neowa maju anjeun jigeum
(Stay stay) jogeumman gidaryeojweo
ijen nae ibsuleun barabwa

(

Yeah!

) How do I say nan neol saranghae (

neol saranghae~

)


oraetdongan neomaneul baraewasseo

(

yeah~ neomaneul baraewasseo~

)
How do I say nan neoreul weonhae (

baby yea~

)


ojik nae-ane neo bbunin geol

(

woh-oh~

)
How do I say nan neol saranghae (

oraetdongan baraewasseo neomaneul baraewasseo

)


oraetdongan neomaneul baraewasseo

(

yeah~

)
How do I say nan neoreul weonhae (

how do I say

) (

woo~

)
ijen ni mameun malhaejullae
nareul (

nareul

)

nianhae badajullae



Parts:


MinWoo

-


DongWan

-
sirenasfun


HyeSung

-
starrcandi


Andy

-
leechunsa


JunJin

-


Eric

-
omegazen

Notes:
.:Sing on time and no background noise. For instance, singing along as the song plays with your headphones on :3
.:This is the "Rock and Roll" version from their Summer Story, since it already has an instrumental track
.:Send me your part(s) in any format to omegazen @ gmail . com
.:Deadline is May 23

Enjoy!